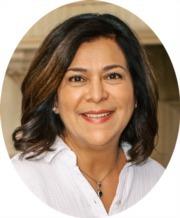 "Introducing Bertha, Your Dedicated Buyer Specialist! 🏡🔑 Ready to find your dream home? Bertha is your trusted guide in the exciting journey of home buying. With a knack for organization, focus, and attention to detail, Bertha is your partner in making your home ownership dreams a reality.
Bertha's true joy lies in helping clients discover their perfect homes. When she's not immersed in the world of real estate, you'll find her indulging in her passions. Cooking, gardening, and practicing yoga are more than just hobbies to Bertha – they're ways to recharge and stay in touch with her creative side.
But perhaps nothing ignites Bertha's passion more than travel. Having explored Europe, Mexico, Central America, and the Caribbean, she brings a global perspective to her work. Bertha's latest adventure? Exploring the art of winemaking using grapes from her very own mini vineyard. An embodiment of the people-first approach, Bertha is thrilled to work with individuals from all walks of life.
Ready to embark on your home buying journey? Let's team up with Bertha and turn your dreams into reality!"